Loony Quest
3… 2…. 1… Draw!
Travel surprising worlds inhabited by Loonies - delirious and aggressive monsters -, pursue your quests and win the crown!
Equipped with an erasable marker pen and a transparent sheet (called screen), draw the best line possible and gather as many Xperience Points as you can. Watch out for the Loonies, avoid the malus, and slow down your opponents with the Sneaky Tricks penalties. On your markers… 3, 2, 1… draw!
Loony Quest is a family game, ideal to have fun while developing observation skills and swiftness. In this game for kids, adults will also have a great time gaining levels to reach the final big boss!
Designers: Laurent Escoffier & David Franck
Artists : Paul Mafayon & Mathieu Leyssenne
Release : February 2015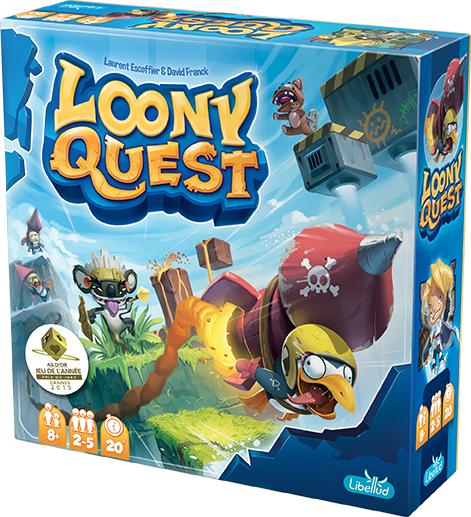 The Loonie Quest The Lost Cities expansion includes 32 new game levels, scout bonus token, cursed penalty token, and a 3D Pyramid Ship to place on your level sheet! A good way to improve the playability of the game and to bring some additional fun into your family games!