Mysterium Park
Welcome to Mysterium Park, the most spectacular mobile funfair in the United States!
Enjoy fantastic attractions and breathtaking shows. Mysterium Park conceals many secrets… and what secrets! The director of the park is missing. It is said that strange events have been occuring ever since he disappeared. Drawn by these rumors, you and your team of Psychics decide to visit the site to shed light on this affair. Once on the spot, you find out that the former director's ghost is trying to communicate with you. With his help, will you manage to prove the right people innocent and to finally unmask the murderer and find the crime scene?
Mysterium Park is a cooperative game where players embody asymmetrical roles for ever-surprising game experiences. The ghost sends Visions to the Psychics through illustrated cards. The latter must interpret those cards in order to rule out the wrong suspects, and to conduct their investigation in different places so as to finally identify the murderer and the location where the crime occured. Be aware that you only have 6 nights before the funfair breaks camp. Mysterium Park is the ideal game: quick to set up and to play.
Designers : Oleksander Nevskiy & Oleg Sidorenko
Artists : Xavier Collette & Studio M81
Release : October 2020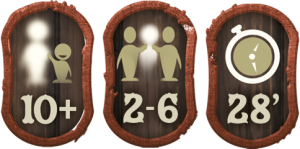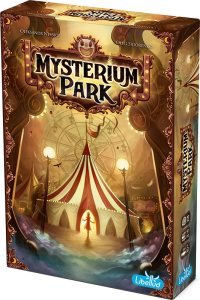 The Mysterium Park rules
in few steps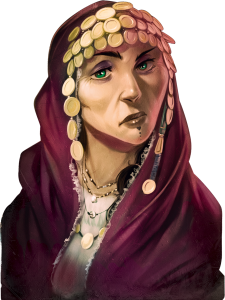 As a ghost, select the Vision Cards you will relay to the Psychics in order to provide them with clues related to their investigations.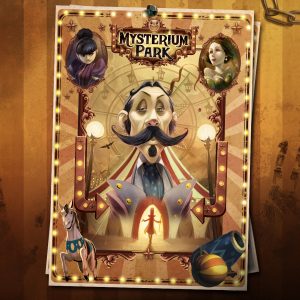 Among the different leads standing out at the end of the game, find the right circumstances of the ghost's death. Use your gift of clairvoyance to solve the investigation!
Find out more about Mysterium Park.
Feel free to check our latest articles about the Mysterium Park game! Interviews, exclusive news and contests regularly appear in our News Section.